In honor of it being Valentine's Day, I've written this romantic poem about tonight's CU/Arizona clash
Roses are red,
Violets are blue,
Those are their colors,
I prefer black and gold,
Let's go kick the shit out of the Wildcats!
... well... I was never very good at poetry. It's heartfelt, though.
Maybe a song?
Hey, we just met you,
And this is crazy,
But we need a rival,
So hate us maybe?
Hrmmmm. Better, but I probably need to stick to basketball.
--
Get fired up! We have a big one tonight!
Tip-off from the SOLD OUT and BLACKED OUT CEC is set for 8pm. Those without tickets to the madness better hope that their local watering hole doesn't have DirecTV, because coverage will be on Pac-12 Networks. Of course, there's always Mark Johnson on 850 KOA to tide you over if TV isn't an option.
For reference, my preview from the first game can be found here.
Click below for my preview of the rematch...
When last we met -
The 2013 conference opener will be
remembered
by many for the final tenth of a second, and how long Sabatino Chen's finger may or may not be. The real story, at least the more productive story, reflects the other 39:59:90 of regulation.
What might've been. From: AZStar.net
It was a game the Buffs rather dominated from the opening tip, utilizing white hot shooting (54% in regulation) to keep the Wildcats at bay for much of the game. Starting at the 16:28 mark in the first half, CU would hold a lead, often as large as 17 points, up until Mark Lyons hit a pair of free throws to force a tie with only 10 seconds to go.
Much of the success revolved around contributions from freshmen Xavier Johnson and Josh Scott. The pair of forwards combined for 28/11 in their first Pac-12 action, making for a surprising boost to the offensive attack. In addition, Chen, having lost his starting spot to Johnson, suddenly became a scoring threat, dropping 15 points on 6-10 shooting to mark, by far, his best night in a CU uniform.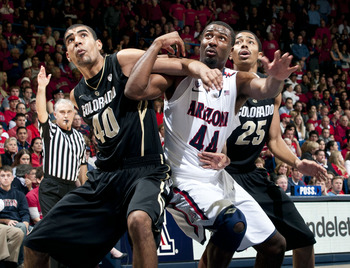 Scott did well in his first Pac-12 game.
Unfortunately, faced with a hungry McKale Center, the young Buffs began to wilt as the reality of the situation began to set in. Even inbounding the ball became a challenge, and the team missed five of their last eight free throw attempts. In a heartbeat, a 10-point lead with 1:53 to go evaporated.
Of course, we all know what followed. Chen hit a miracle bank shot to win the game, the refs conferred before waiving it off, and the deflated Buffs played the overtime without the heart and efficiency that defined the majority of their play.
92-83 final
, opportunity lost.
The Buffs struggled to even inbound the ball, and the resulting collapse cost the team a statement win
Thinking back, those final few regulation minutes in Tucson, and the following rough start to conference play, may have actually helped the young Buffaloes grow up a little bit. Gritty efforts on the Oregon swing, and even the second half comeback against Utah, may not have been possible without the painful lesson of leads lost stuck in the back of the player's minds. Does 'Dre defiantly say of his determination in Oregon that "
I didn't want to lose
" if the realities of failure weren't so fresh? I don't know, but this team is now a bunch of battle-scarred veterans, and it shows.
Since then... -
The big difference between now and then for the Wildcats is that they're no longer perfect for the season. Losses
@Oregon
,
vs UCLA
, and
vs Cal
have since bespotted their resume. As you may note with those two home losses, they've been surprisingly shaky at the McKale Center. In addition to the losses and the infamous CU finale, they've also struggled with Utah and Stanford in Tucson. Not exactly a series of confidence-building performances in front of that rabid fanbase.
Allen Crabbe almost single-handedly beat 'Zona last week.
In spite of that, I can confidently say Arizona is still a top-10 squad, still on track for 25+ wins, and still capable of playing deep into the Tournament. Their efficiencies are rated in KenPom's top-25 on both sides of the ball, and a win over them tonight would make a tantalizing scalp for a CU team still beefing up their own Dance application.
On offense, they've proven to be the conference's best, notching 1.05 ppp in Pac-12 play. The key has been getting to the line, where their in-conference best 74% free throw mark can make a difference. One aspect that is slightly concerning, however, is that they've become a little too reliant on outside shooting, taking 36% of all shots from beyond the arc, good for second most in the league.
As I noted the first go-around, they still struggle with teams who can hit the three. This is evidenced by the 35% three-point shooting allowed by the sagging man-to-man, which helps account for nearly 30% of opponent scoring. CU took advantage of this in the first matchup, and would need to again to come out on top. It's an uncomfortable proposition for the Buffs, however, as they are 298th nationally in three-point distribution.
Why things could be different -
Actually, I hope very little changes from the first matchup. With CU controlling play for all but the final two minutes, there's a lot to like from last month's performance. The trick will be taking those first 38, and carrying that differential through a new 40.
I find it hard to imagine that CU will be able to get as hot as they were from behind the arc this go around. The Buffs shot an incredible 10-21 from deep, by far their best output in conference play, and a full 12% over their seasonal average. 'Zona's susceptible to outside shooting, so a repeat performance isn't completely out of the question, just unlikely given the tendency to return to yearly norms.
We can really expect Sabatino to hit 6-10, and become a scoring threat again. From: USA Today
Arizona's size could also play more of a factor this time. Solomon Hill fought foul trouble the first go-around, and freshman power forward Brandon Ashley was essentially erased by Xavier Johnson and Andre Roberson as a result. I expect Hill will see more of the court, and that Ashley will improve on his 1/3/1 effort.
Prediction -
The old saying goes, before you embark on a journey of revenge, dig two graves. The Buffs dug themselves quite a deep one after the first Arizona game, allowing their rage at the apparent injustice to drag them down to the depths of an 1-4 start to conference play. The team got caught up in it, the fanbase got caught up in it, and the season was sent into a tailspin as a result.
In retrospect, I doubt Coach Boyle would allow himself or his players to focus so much on the controversy if given a second chance. No
ESPN UNite interviews
, no
indulgent conversations
with national reporters. It sucks, it happened, let's move on. You know, rise above it, and all that Disney-esque crap.
But the ship has since been righted with a five-of-six run that includes the recent sweep of the Beaver State, and the faint scent of sweet, sweet revenge once again corrupts the fresh mountain air. In that light, it's hard not to notice Arizona's pre-dug grave lying next to the one the Buffs just crawled out of, and remember why it was dug in the first place. Revenge is back on the menu.
If this were a revenge tale, tonight would be the
final scene
of
Kill Bill
, with Beatrix Kiddo, literally escaped from the grave, talking Bill to his death. The end is pure Tarantino. Fast, visceral, comically absurd, and set to a backdrop of excessive dialogue. And that's exactly how I expect it to be tonight.
With a packed CEC screaming for blood behind them, I can't help but predict a CU victory. Ski wakes up, 'Dre has a monster game, and the Buffs pull off the upset of the #9 Wildcats.
Win this for Sabatino!
CU 83 - UofA 80 (as if there is any other score I could pick)
GO BUFFS! PROVE ME RIGHT, AND BEAT THE WILDCATS!