I saw an interesting
question
posed during yesterday's Kyle Ringo twitter chat: who would win a game between the 2012 and 2006 Buffs? For the record, Ringo
responded
that he thought the '12 iteration of the Buffs would win 6-3, but I think that question deserves some fleshing out.
Already you can see where this is headed, as I've invoked the seminal year of the Hawk error when discussing the current on-field horror. I'm not doing this to be mean. It just struck me, however, that after considering the question that I was looking back fondly on the 2006 season. Such is the depths that this turd of a season has flung me into.
The two squads are already kind of similar. Both lost to CSU and an below-average 1-AA school in consecutive weeks; each notched their first win against a Mike Leach lead team, causing the Dread Pirate to
bemoan
the
effort
of his players. One thing '06 has, so far, over the current CU vintage: a second win. Whether the 2012 Buffs can reach that mark is yet to be seen. I, at least, think it would be an interesting game, and one that's fun to think about.
Accordingly, I'm going to give the scenario the full preview treatment, from stat breakdown to prediction. After giving it a moments thought, my conclusion might surprise you.
Click below for a look back at the year that was 2006...
2006 season review
2006 marked my Super Senior fall (kids, remember to take a victory lap, you'll thank me later). I had left band to pursue other proclivities, and was living the good life. As a senior, I had access to some fantastic assigned seats in Folsom. 11th row on the East side 50-yard line, I sat on the aisle with the full knowledge that those sitting to my right were paying thousands for seats that cost me less than $100. If you're going to watch Rome burn, you might as well have a great vantage point from which to play your fiddle.
At the time, I thought the Buffs were still a solid football program. The effects of the
disastrous fall of 2005
were not fully known, and I thought the program would rebound quickly from the coaching shakeup that resulted. Certainly I was not expecting a 2-10 season, but expectations have a funny way of mocking you as they vanish from your eyes.
It wasn't as if 2006 snuck up on those of us doomed to live through it, in fact it kicked down the door via an de-pantsing
19-10 loss
at home to Montana St. Obviously reeling from the shock of losing to a below-average 1-AA team, the Buffs would go on to lose six consecutive to start out the season, including inexcusable losses to CSU (
14-10
) and Baylor (
34-31, OT
). Weirdly enough, despite the struggles with lesser opponents, the team was still capable of playing teams tough, signified by the
close loss
at Georgia in week three. The '06 Buffs lead that game for 54 minutes, only coughing up the lead with 46 seconds left on the clock via a
last second touchdown pass
. They had heart, I'll give them that.
That one hurt.
The 7th game finally saw the Buffs end up victorious, as they shut down the Texas Tech Red Raiders en route to a
30-6 rout
. Three more losses, two of them close ones, were in store before the home finale, senior day, against Iowa State. The Buffs took a lead on the opening drive that they would never relinquish. It was 33-10 before a late ISU TD left the final a slightly more respectable
33-16
. Still, a nice win to go out with. The Buffs fell in Nebraska on the season's final day, but not before giving the Huskers a scare for three quarters (I remember a particularly bad pass interference call, but I digress).
Happier times after the ISU win.
While the team limped home from Lincoln with a 2-10 record hung around their necks, they had been in all 12 games on the season (to a degree), and, it pains me to say in a very Hawkish manor, were only a few plays away from sniffing the fringes of bowl eligibility. Still, the 2-10 record was an eyeopener, and it set a sour tone for the entirety of the Hawk error.
Coaching -
Oh boy, here we go.
If there's one thing I can say in defense of
Dan Hawkins
, it's that Buff Nation was very excited to land him in December of '05. He was perceived as an offensive guru, a top-flight motivator, capable of leading his teams to high-flying wins over a variety of opponents. Buff Nation salivated over the thought of the Hawk leading top-flight BCS talent into battle, and his hiring was seen as a coup for the newly installed athletic department regime of Mike Bohn. No one, I repeat no one, spoke out against his hire prior to the start of the '06 season.
CU's own personal boogeyman.
If you're saying to yourself "well, I always had my doubts, even on day one" I'm calling you a fucking liar. If you're saying "they should've hired Petersen" I'm calling you an unrealistic idiot. No one, in their right mind, was calling for the hiring of a mid-major OC over the head coach. BCS schools just don't do that. If Bohn had turned up with Petersen, he would've been laughed out of the room. CU just got caught under a boulder of disguised ineptitude.
Of course, hindsight is 20-20. Hawk would go on to gut the program of it's traditions on and off the field, and his lengthy exit period knee-capped the program through two full recruiting cycles. One of the big debates still ongoing is how the program would currently look if Mike Bohn had been allowed to fire the Hawk after the '09 season, as he had wanted to do.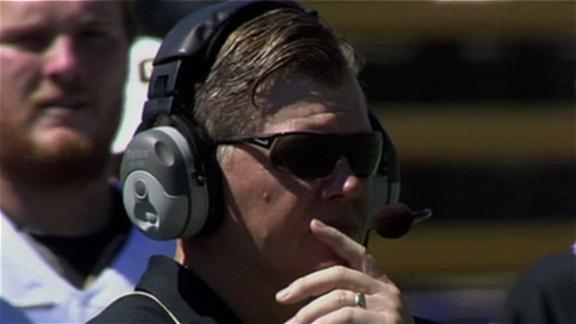 "Hrmm... this may not be going as planned."
Since his firing, Hawk has mostly laid low, being shelved deep on ESPN's bench of failed coaches and administrators on 3rd and 4th tier
broadcasts
, and appearing on a show laughably called "
the Experts
" from time to time. He can also be found
throwing
his
name
into coaching searches with little reciprocation from the hiring side.
HE GONE.
Despite my often caustic rhetoric, I don't really
hate
Coach Hawkins. It didn't work out, and more than his presence alone is to blame for the current state of the program. Fuck sake, I hate thinking about this. Moving on...
Offense & Defense -
Links to NCAA statistical report, CU's own.
A lot of not-good, but I would like to point out a few areas in need of praise. The current staff talks of a dedication to the run game, the '06 team lived it. Through a three-headed running tandem, the Buffs had the 22nd best running attack in the nation (173 yards per game, Coach Barnett would've been so proud), which was necessary since the Buffs possessed the 4th-worst pass offense in the country in 2006 (119 yards per, only ahead of two option teams and North Texas). They also stopped the run pretty well, notching the 30th best rush defense.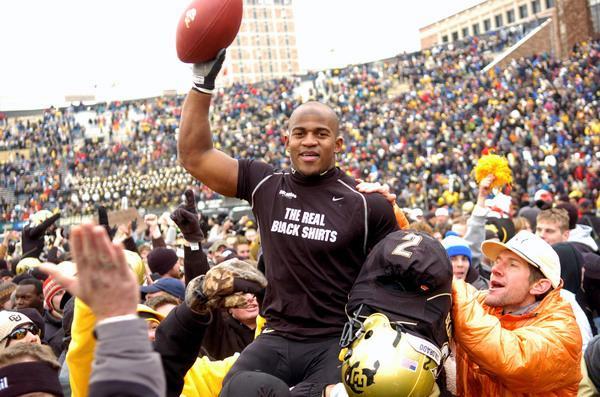 HUUUUUUGH and the running game could scare opponents. The rest of the offense...
In fact, the overall defense wasn't half bad. On top of the solid rush defense numbers (112 yards per game), they also had pretty good scoring (22 points per, good for 56th) and total (341 yards per, good for 66th) defensive numbers. Nothing that will set the world on fire, especially considering how below-average the pass defense was (229 yards per, 94th in the nation), but still good considering the overall record, and the amount of time the D spent on the field. A lot of the larger scoring deficits (Oklahoma, Nebraska) came late as the defense wore down.
Also, Matt DiLallo helped CU end up with the 31st net punting average (37 yards). Important when the punter is on the field much of the day. Good on ya, Matt.
Star Players -
One of the secrets of the '06 team, was that it had a decent amount of talent on board. There was a strong core of upperclassmen who would all go on to play professionally, including: RB
Hugh Charles
, LB
Jordan Dizon
, OT
Tyler Polumbus
, DB
Terrence Wheatley
, OL
Brian Daniels
, DE
Abraham Wright
, and K
Mason Crosby
. That list is exclusive of other prized upperclass contributors who never sniffed the NFL, but who, nonetheless, were large factors in victories outside of '06, and who would be more than welcome on the current squad (LB
Thaddeus Washington
, OL
Jack Tipton
, S
J.J. Billingsly
, CB
Lorenzo Sims
, and C
Mark Fenton
).
Polumbus is one of a few '06 Buffs who made it to the NFL.
Bernard Jackson
at QB would also add an interesting dimension, keeping plays alive, and putting the young 2012 defensive backfield into positions where they'd be easy to break-down.
BJAX
combined with Charles, and the diminutive
Mell Holliday
(
the Welder!
) to total near 2,000 rushing yards and nine scores on the campaign. I don't care who you are, that's pretty good.
The flipside, of course, is that BJAX was never the world's best passer, and he threw for only 1,300 yards on the campaign off of less than 50% passing.
Defensively, it's a pretty strong bunch. Abe Wright and then-sophomore
George Hypolite
made for a dangerous D-line, Bad Thad Washington and future
Butkus finalist
Jordan Dizon formed the backbone of a solid LB corps, and Sims, Billingsly, and Wheatley formed an NFL caliber backfield (albeit low end).
Dizon was only one part of a surprisingly strong defense.
Toss in the great Mason Crosby, capable of hitting field goals the second he emerged from the Dal Ward tunnel, and the team had plenty of star power. In fact, after thinking about it, I'm only sure that I'd take five of the current Buffs over '06 starters. Kasa, Polk, Uzo-Diribe, Webb, and O'Neill. You could argue over a few more, but those are the only gimmies; five out of 24 spots.


Prediction -

What I'm leading up to is this, I don't think there's a way that the 2012 Buffs could beat the 2006 Buffs. The '06 team would pound the ball, slowly pulverizing the young '12 defense while the '06 defense nailed the '12 offense to the wall.

I would certainly expect the hypothetical game in question to be low scoring. I don't believe either team could crack 28 points without significant help. Another big factor is the leg of Mason Crosby, he alone is probably worth six extra points for '06, and that could mean the difference.

Pulling a score out of my ass, I'm going with 20-7, '06 wins.

GO BUFFS! PROVE ME WRONG, AND (hypothetically) BEAT OURSELVES!