Another week, another Buff slaughter, another series of comments from players
questioning
the attitude of their teammates. Big shock.
Is anyone surprised that this program, saddled with (soon to be) seven consecutive losing seasons (and prospects as good as Betamax going forward), would have problems with players "quitting," and/or not putting enough effort into game prep heading into a game they had no chance to compete in? I'm not. I remember when I was 19/20; if shit wasn't going my way, I checked out real quick. All it takes in one bad sequence (last week it was the TD return out of half, this week it was the opening 2-play TD drive followed by the Webb INT in the endzone), and they might as well kneel the rest of the game.
You can berate a kid, you can question his pride, you can essentially stick a cattle prod up his ass, but if there's nothing to play for, if there's no reward to strive for, then effort is going to disappear
real
fast. It's human nature.
--
Today in the bag, I'll throw garbage at the football result, discuss the rest of the athletic department's trip to Los Angeles, and take a trip around the world of football.
18 days...
Click below for the bag...
Your weekly dose of punishment -
It sounds perfect in theory. I won't watch or listen to the game, and therefore it won't have any affect on me. But of course, being a fan, I am railroaded by the need to know. The need to follow. I cannot help myself. So I lurk the twitter feed, I creep the ESPN updates, and steal glances at the bottom line. The news is, of course, not good. It only took two plays for USC to take the lead, records
were set
in record time, and the Buffs couldn't even muster a dead-cat-bounce.
50-6
, final.
Weeeeeeeeeeeeeeeee.
I'm just glad we circled that game in red, Lord knows what the result would've been had we treated it just like any other game.
Anything? Anything positive to take from Saturday?
USC and Matt Barkley may as well be playing against tackling dummies, so easy was their day. Sure there were
moments
of individual success. A tackle for loss here, a hauled in catch there. But nothing meaningful, nothing that would show a sign of life on the scoreboard.
It was never going to be a Hollywood ending in University Park; the challenge was too great, the ability far from adaquate for the task at hand. Still, it all seemed too easy. It didn't seem as if the Trojans were forced to exude anything close to their full potential. Had they played 60 minutes of hard football, to the limit of their, is there any doubt that they would've put up 100+ points? All that from a team that had been "struggling" this season.
Applicable
I'm just going to stop there. Anything further would only be an unhelpful mash of desperate lashing at the unending spiral of failure. Rather than say anything I'm sure to regret later, It'd probably be best to just sit in silence, and fix my attention elsewhere.
Soccer salvages a win out of LA -
In addition to the football game Saturday afternoon, the CU athletic department sent both the volleyball and soccer teams into Hollywoodland. After promising starts to the season, both teams had been struggling with Pac-12 competition, and trips to powerful UCLA and USC squads in each sport didn't set-up to help much.
The volleyball team was 3-5 in conference play headed into the trip, where they would play the #6 and #7 teams in the land. They wouldn't win a set, getting swept in
both
games
. The Buffs actually played UCLA close Friday night, nearly taking both the first and third sets, but committed far too many errors to beat such a strong team on the road.
The soccer team, previously winless in conference play, seemed poised to seal the AD's LA shutout. They were beaten by #3 UCLA Friday night, only mustering a goal in the 89th minute before falling
2-1
. Sunday afternoon, however, senior captain Amy Barczuk netted a goal in the 2nd overtime period against USC, giving the Buffs a
1-0
win, and their first Pac-12 victory for 2012.
Woohoo, saved at the death by the soccer team; no LA shutout this year!
Around the nation of football -
College Football
Kansas State @ West Virginia -
So, I guess WVU was a mirage. For the second straight week they got housed, this time
55-14
by K-State. While Geno Smith was busy throwing away his chance at the Heisman, Wildcat QB (and Colorado native) Collin Kline was staking his claim on the most famous individual trophy in all of sports. Kline combined for seven TD's and 364 yards in the win.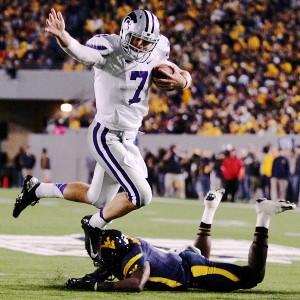 Your new Heisman frontrunner. From: ESPN
Utah @ Oregon St -
Heaven help me, but I don't buy Oregon St. They beat Utah
21-7
over the weekend, riding a wave of four Ute turnovers to victory. The win keeps them perfect on the year, and pollsters have them in the top-10, but I could see them losing four of their next five (@ Washington, vs ASU, @ Stanford, vs Oregon).
The good news, Utah continues it's freefall, setting up a winnable game for CU the Friday after Thanksgiving. Folsom may not go winless this season, afterall...
South Carolina @ Florida -
Hey, remember when everyone thought South Carolina was a potential contender for the SEC title.
LOL
.
NFL
Jets @ New England -
The Patriots tried to give away victory twice. Once via a late fumble, which could've allowed the Jets to salt away the game, and then again in overtime after settling for a field goal on the first possession. Both times, Sanchez and the Jet offense played far too conservative, and put themselves in position to fail. New England derps it's way to a
29-26 win
, and takes the lead in the NFL's worst division.
Ballgame.
Baltimore @ Houston -
Baltimore, we have a problem. Nothing worked for the Ravens Sunday afternoon, and Houston waltzed to a
43-13
win. Of all the "good" teams in the league this season, Baltimore is by far the shakiest. I still have them going to the AFC title game, though.
Happy Monday!