I saw these in the "Official Online Store of the Pac-12 Conference:"
*sigh*
These shirts (on sale for $17.95 a piece) speak to the ongoing desire from the program
to install
USC as the main rival,
a la
the way Nebraska was installed as the main villain 30 years ago (There's also some CSU versions of the above, but I'll leave that for another day). The whole notion strikes me as a desperate shriek in the midst of a hasty retreat. Nebraska in '82 at least made sense from a geographic, historical (CU had played games against them since the dawn of the program), recruiting, and fan base stand point. Picking USC feels like it's coming out of left field. Why not pick Alabama, or Ohio State? They're good, so they're our rivals now *pounds table*.
Yes, you have to start somewhere (to be the best, you have to
beat the best
), and a rivalry with the LA schools would be ideal, but I don't feel it, SC
doesn't feel it
, and no one outside of Dal Ward takes this seriously right now (probably inside too). USC will kick CU's ass for the next decade plus, and never think twice about it. They've got a cut-throat regional rival (UCLA), a pair of bubbling conference rivalries (Oregon, Stanford), and a traditional rival (Notre Dame) that all take up far more of their attention, and will always take up more of their attention.
While CU recruits the SoCal area, there's just no overlap on the athletes the two programs are going after. SC doesn't even care enough to swoop in and steal Colorado's best high school talent, such as it is (SC has more players from Alaska - one - then they do the Centennial State). There's not even the chip of "hey, they take over our stadium every two years" to play, as USC's road section was no more prevalent in Folsom's bleachers than any other last season. Forcing USC as a rival is pointless.
I will never understand the program's refusal to go along with a revivication of the Utah rivalry. It's historical, it's geographically convenient, the Utes are a strong program, and, as CU proved last year, are a beatable proposition. Even the Arizona's would fit, as they recruit both Colorado and similar recruiting grounds to the Buffs. Either of those three would make sense. SC doesn't, other than through the lenses of a Napoleonic complex.
--
Kickoff from Memorial Coliseum is set for 4pm MT. Coverage can be found on Pac-12 Networks. Since I STILL DON'T GET IT (Fuck you DirecTV), I don't have to watch Saturday (small victories). I could listen to Mark Johnson's coverage on 850 KOA, but I would rather not live my weekend in a well of depression. Rather I'm going to do something else. I might even think about going up into the mountains. Anything to get away from the dumpster fire taking place in SoCal Saturday afternoon. 22 days...
Click below for the preview...
When last we met -
Last year's preview can be found here.
This was the mid-week blackout game from last season, but the late night magic was little help for the Buffs. Heisman candidate Matt Barkley
set a school record
with six TD passes as the Trojans briskly strolled through Folsom Field en route to a
42-17
win. The Trojan juggernaut doled out 561 yards, while only being forced to punt three times.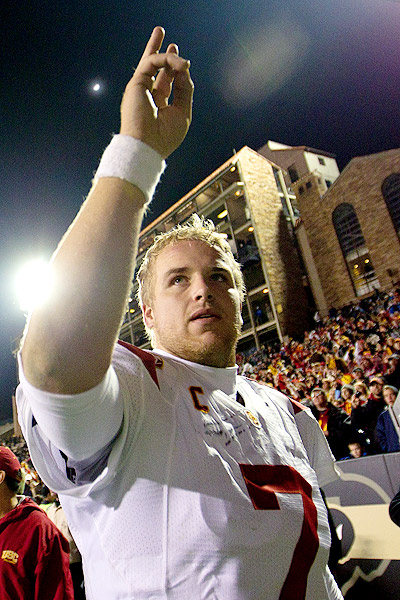 Barkley had an easy go dissecting the Buffs D last season.
The Buffs actually scored first in the game, but USC reeled off four unanswered first half TD's to put the game on the edge of blowout status before halftime. Offensive stars Speedy Stewart, Tyler Hansen, and Toney Clemons each had big games, but few besides them were able to step up under the lights. Speedy finished with 155 total yards. Hansen was under 50% passing, but threw for 250 yards, and combined with Clemons (5 catches 112 yards) twice for scores.
Opponent's season so far -
Only one blemish has kept the Trojans from national title contention. A gut-wrenching 3rd week
loss at Stanford
set back the USC cause to the point that they're now also-rans in the BCS race. From pre-season #1 to 10th... that's rather harsh. It's not as if Stanford was, well, the Buffs. The Cardinal has proven to have USC's numbers in recent years, and I didn't the loss was
that
bad. Ugly, sure, but not of a disqualifying nature.
Stanford tripped up Barkley and USC back in week three.
Of their five wins, I guess you can say they've struggled, if only because a 10-point road win is considered "struggling" for a team with this much top-level firepower. Their average margin of victory in their five wins has been 18 points. They're not blatantly crushing teams, other than week one opponent
Hawai'i
, which people take as being a letdown. People are weird.
Needing to leapfrog seven teams in the BCS standings, I wouldn't be surprised if they're inclined to run up the score a little bit on Saturday to show they've still got "it.".
Statistically speaking -
NCAA statistical report can be found here.
While they don't lead the Pac-12 in any major category, the Trojans have managed to place in the top-half of the conference in all but two major statistical categories; net punting and average offensive yards per game. They're solidly above average in everything, true
Renaissance Men
.
If you absolutely need to highlight something, they excel in getting into the offensive backfield, as they rank 5th nationally in sacks per game (3.67 per) and 16th nationally in tackles for loss (7.67 per). They also hold opponents run game down, only allowing 111 yards per contest.
Star Players -
Star power in inherent with the Hollywood ethos, and SC Football, the darling of the Hollywood Hills, lives that to a 'T'. Larger than life figures have always adorned the Trojan sideline, and this 2012 team is no different. The passing triumvirate of
Matt Barkley
throwing to receivers
Marqise Lee
and
Robert Woods
is the slick, headline grabbing powerhouse that the football consuming world has come to expect from University Park.
Lee and Woods are some of the best receivers in the country.
The receiving duo has, to date, hauled in 90 catches for 1,041 of Barkley's 1,475 yards, along with 12 of his 16 TD's; Lee is 5th in the country with over 9 grabs per game. There are plenty of NFL teams who would trade entire drafts for these three, as they are sure to star on Sunday's, and few in college ball can contain them when they are even close to their best.
Running the football in support of the passing trio is
Silas Redd
. Yearning to break free from the crumbling ruin of the once-proud Penn St football program, Redd made it quite clear over the offseason that he wished to head to the Left Coast. SC obliged, and
he's now
in crimson and gold. Due to the horror of the Sandusky scandal, Redd's been allowed to
play immediately
, and has been doing that very well. 570 yards and six scores on 101 carries. His skill forces opponent defenses to split focus away from the passing attack, which is exactly what the Trojans want.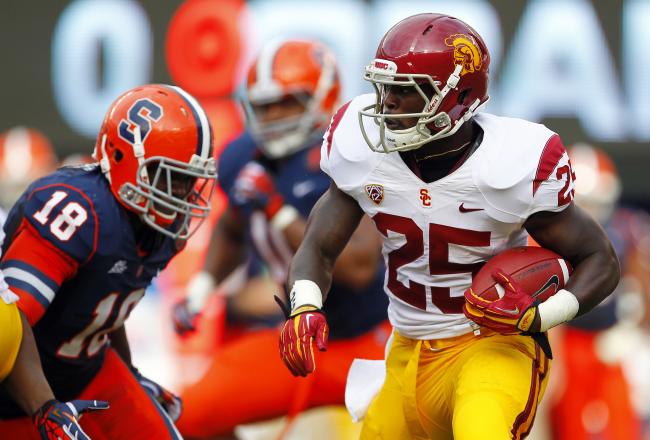 Redd seems to be enjoying life in LA.
On defense, RSo
Dion Bailey
is a premier linebacker, potentially ready to jump to the NFL after the season. The reigning Pac-12 defensive freshman of the year is second in the team in tackles with 42, and had proven to possess superb coverage skills with four interceptions.
Bailey is another SC star.
Also of note on defense, Jr DE
Morgan Breslin
is yet another scary-good disruptor. The JuCo transfer already has seven sacks and 12 tackles for loss.
Coaching -
Oh Lane, will you ever grow up.
The son of football lifer
Monte Kiffin
, USC head coach
Lane Kiffin
has long had trouble with the whole "professionalism" thing, and this season has been no different. Incredulous that some reporters actually do their jobs from time to time, he threw a
hissy fit
when LA Daily News reporter Scott Wolf
reported
on an injury-related surgery for Trojans kicker Andre Heidari. Even when that situation seemed to have been resolved, Kiffin's panties remained in a bunch to the point that when asked about it, he ran away from a press conference the same way a 10-yr old hides from his parents when he knows he's done something wrong:
"I gotta go." What, did you wet your pants? You don't want to talk about injuries, fine, but at least be a man about it. I know he's 23-8 as Trojan head coach, but is he really the best
man
for the job?
Unrelated, one of the best things to come out of the offseason was the
Bane Kiffin
meme.
Get it? Bane rhymes with Lane, so they put a Bane mask on Lane Kiffin's face. I get jokes.
Prediction -
Blech. There's not even any interesting story lines to follow. Does USC crack 50 points? Sure, why not. Do they crack 500 yards? Sure, why not. The spread is 41 points. Whether USC covers is entirely on them. How much do they really care about this game? I don't know, but I bet it's more than enough to kick the shit out of the Buffs.
The only way the Buffs hang in SoCal this weekend is if the entire Trojan team (from starters to practice squad) gets Ebola, and has to be hospitalized, leaving USC to field a bedraggled roster made up of the God-awful Trojan band, the Song Girls, and fat members of the film school. I'm betting that doesn't happen.
Watch/listen/follow this one at your own peril.
USC [whatever they want] - CU 10
GO BUFFS! PROVE ME WRONG, AND BEAT THE SPREAD!
!