I'll be honest, I care a whole lot more about the basketball team's
scrimmage
against
SMU
, than I do about this game. The scrimmage is in Dallas, locked safely behind closed doors, and very much secret (coaches, by NCAA rule, are not allowed to talk about these events). The football game is in Eugene, but nationally televised, and openly discussed. By Saturday evening I will know exactly how the scrimmage went, yet still sit in the dark about the football result.
I will not watch the football game, I will not listen. I won't even check twitter to see how things go. I so vehemently don't care about how many points Chip Kelly decides to have his team score on CU this weekend, that I'm unjacking from the internet, and doing other things. I don't know, maybe a game of Monopoly.
15 days...
--
Kickoff from Autzen Stadium in Eugene is set for 1pm MT. Coverage can bee seen on Pac-12 network (if you get it), with radio coverage set for 850 KOA.
Click below for the preview...
When last we met -
Last year's preview can be found here.
The top-10 Ducks flew into Folsom, and battered around the Buffs in a
game
that was never close. Oregon easily scored on their opening drive, and went for two on the point after like a bunch of pricks. Up 8-0 in the game after only a minute and a half of play, they would go on to score 37 consecutive points before turning off the gas early in the second half. Add it up, and you get to the 45-2 final. Might as well have been 100-2. Sure glad they went for that two earlier, or it would've been a nail-biter.
A real barn-burner.
The lone bright spot for the Buffs was a pity safety scored at the death of the 3rd quarter, which allowed CU to avoid the shutout. For the day, the Buffs could only muster 231 yards of offense. Conversely, the Ducks, "struggling" with back-up QB Bryan Bennett at the helm, cruised to 527 yards. Might as well have been 1,000.
I left early, got a
burrito
. It was good.
Opponent's season so far -
7-0 on the season, the #2 Ducks have beaten opponents by a weekly average of 31 points. Probably the biggest statement on their season schedule to date was the week four match-up with then #22 Arizona. The Wildcats were held nearly 300 yards under their season average, and were repeatedly rebuffed at the endzone's doorstep. The Duck offense eventually kicked in, leading to a
49-0
final on national TV.
The swarming Ducks didn't give an inch against the hapless 'Cats.
To date, this team has scored 357 points, while CU has only managed 131. Given CU's current pace (18.7 points per), it would take another 12 games just to get to where Oregon is right now.
From a CU-centric standpoint, just think, these Ducks
blew out
Fresno State back in week two. As I
wrote
back in September:
"The Ducks boat-raced the Bulldogs with five unanswered touchdowns before halftime. The Ducks did their damage on scoring drives of 68, 73, 85, 69, and 98 yards, with four of the five taking less than three minutes to complete; such is life in Eugene."
Fresno, if you recall, managed to squeak by the Buffs 69-14. Add to that the 17-point spread that the Ducks finished with over the Bulldogs, and you're looking at a 72 points differential on the scoreboard.
That FSU game was actually pretty indicative of the entire season for the Ducks. Oregon races out to a big lead, gets bored, and gives up some late points. If these guys ever had to play a full game against someone, the numbers they would put up would be scary.
Only two matchups with USC stand between this squad and shot at the national title game (that is, assuming the voters don't want another SEC-on-SEC game of grab-ass). With Oregon traveling to LA next week, they'd be fools to be thinking about anything other than the Trojans right now.
Offense & Defense -
NCAA Statistical report can be found here.
It's Oregon, which means it's time to watch the
blur offense
race up and down the field. I'm talking shotgun spread, utilizing
zone blocking
and
read-option
plays on most downs. This is not the shotgun spread of, say, Hawai'i (where passing is very prevalent), or the Urban Meyer style (where there is a strong balance). No, the Oregon offense is all about the run, using multiple looks with multiple potential ball carriers to shift the defense away from the ball carrier, and get athletic weapons into space.
It might as well be a track meet when the Ducks have the ball.
It's as successful this year as it has ever been. With over 317 rushing yards per game, Oregon sits 4th in the nation, only behind traditional triple option teams like Army and Air Force. This propels them to 8th in the country in total offense (529 yards per), and 2nd in scoring offense (51 points per game, best in the conference).
You either have the talent on the field to compete with it, or you don't. There's no in-between. Played against an average defense, this offense is like playing NCAA '13 with the sliders turned all the way down. I'd be more skeptical of its success, if it wasn't so damned proven over the past few years.
The defense has always been the sideshow in Eugene. This program relies on it's offense to win, and with good reason. Still, the
hybrid 3-4
can cause headaches if you're not prepared for it. Overall, the Ducks give up 366 yards per game (middle of the pack, nationally), and allow over 20 points per (5th in the conference). Good, not great. However, those numbers are slightly skewed by the large leads the offense puts up, forcing coaches to
take their foot off the gas
on both sides of the ball.
Star Players -
The rushing attack is based on the speedy duo of SR
Kenjon Barner
and SO
De'Anthony Thomas
. The pair has combined for 1,270 yards and 18 TD's so far on the ground, and 22 total. What else do you expect, really?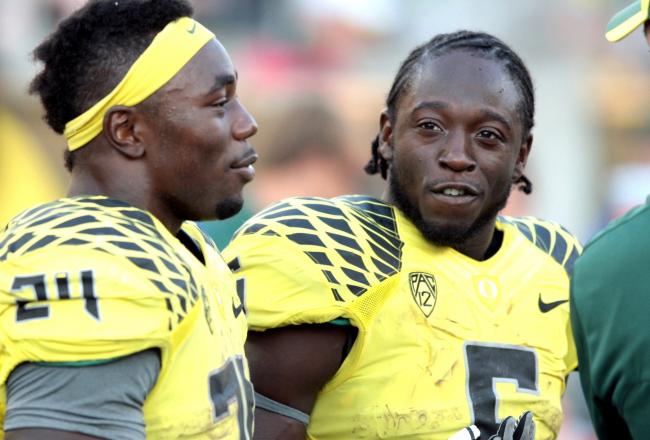 Barner and Thomas cause plenty of problems for opponents.
FR
Marcus Mariota
has taken over as the starting QB, and has had an easy time of it. 1,347 yards on 68% passing, combined with 356 rushing yards, makes for a combined total of 18 total TD's.
Mariota does a great job not crashing Coach Kelly's supercar offense into a tree.
On defense, SR LB
Kiko Alonso
leads the team in tackles, and TFL. JR
Avery Patteson
is the team's best cover corner, and has over 100 yards on interception returns this season. SR DE
Dion Jordan
has five sacks.
Coaching -
I'm convinced that
Chip Kelly
is a robot. If only CU had listened to Sam Waterston, and bought some Old Glory robot insurance when they had the chance!
Besides eating old people's pills for fuel, Coach Kelly also destroys opposing defenses, with neither mercy or compassion. He's legitamately one of the premier coaching names in the country, regardless of level, and it's only a matter of time before some NFL team comes along and snatches him up.
ERROR! ERROR! DOES NOT COMPUTE!
That time was almost this past offseason. Word earlier this year was that the Chip-bot 5000 was
this close
to taking the Tampa Bay Buccaneers job. I imagine he was pushed in the NFL direction by the NCAA bloodhounds circling Eugene over the
less-than-legal relationship
between the program and Willie Lyles.
Regardless, Coach Kelly eventually
turned the Bucs down
, preferring to stay in Eugene, rather than jump onto a sinking ship.
I wouldn't have been that intrigued by the Bucs job either. Now, should the Cowboys fire Jason Garrett this year... that might be a whole different story.
Prediction -
Ask Coach Kelly. He's playing the tune Saturday. If he wants the Ducks to put up 200, they will. If he only wants them to put up 20, they will. Coach Embree and the Buffs have no say in the final result. This game is the definition of non-competitive.
I'll take a shot in the dark and say that Oregon cracks 50 before Kelly calls off the dogs, and puts in the 4th string. As for the Buffs, that pity safety they got last season is looking pretty good right now. I'll say they triple that with two field goals.
I'll also say that the Ducks will go for at least one 2-point conversion, yet everyone in the media will fall over themselves trying to call Coach Kelly "classy." (Just runnin' our offense, coach) Media guys are weird.
Oregon 54 - CU 6
GO BUFFS! BEAT SMU... er Oregon. Right, football. Beat... Oregon... or something.