I'm back from vacation, not that I want to be. Beyond the stress associated with coming back to work, and the uncomfortable fit of my old routine after a successful trip home, I had gotten used to being 1,000 miles away from all things CU football. Home in Chicago, I was blissfully unaware of the football program and its ever grumpy fanbase. I found that outside of Colorado there is a whole world full of sunshine and joy; where children still laugh, birds still sing, and sports are still a storehouse of escapist fun.
Here, the world is ugly and gray, and that's not just the early-fall weather. This place reeks of foul-tempers, and it's not an easy place to return to. Football season can't end soon enough.
Close your eyes, BuffNation, and think of Tad. Basketball season is less that three fortnights away...
Today in the bag, I'll take a brief look back at the UCLA drubbing, touch on some recruiting notes, and finish with my usual trip around the nation of football.
Click below for the bag...
We'll always have Pullman -
For the second year in a row, UCLA has stomped out any hopes of a momentum building win with a blistering dismantling of the Buffs. Last year was 45-6, this year was
42-14
. Slightly closer, but not much better.
It was theoretically close for much of the game, as CU managed to stay within a score or two for nearly three full quarters of play. However, a late 3rd quarter touchdown drive off of a costly Vincent Hobbs fumble opened the flood gates. Over the course of their next 19 offensive plays, the Bruin offense produced 181 yards and three touchdowns to put the game far out of reach.
CU stayed in contention early, but the close wasn't there. From: the BDC
The UCLA offense was, as expected, very potent. Producing just shy of 500 yards, they had an easy time moving the ball against the CU defense. They may not have hit their mark of 250 rushing yards, but the 211 they did rack up Saturday was more than sufficient. Additionally, Bruin QB Brett Hundley lived up to his billing, churning out 295 yards of total offense, and scoring four TDs in the process.
CU was particularly abysmal on 3rd down, converting on only two of 15 attempts. Conversely, any hope that inconsistent
3rd down and red zone offense would stunt the UCLA attack was washed away early. In fact, the Bruins converted near 50% of their 3rd down opportunities (7-for-15), and all of their red zone chances (four trips, four TDs). This proved costly when CU started turning over the ball in the second half, allowing UCLA to slam the door on any remaining comeback hopes.
Once the tide turned, it turned fast. From: the BDC
Overall, the Buffs continued to
struggle
on the ground. Despite 30 attempts, the running game only produced 83 yards (2.8 yards per). Compounding that difficulty, power back Christian Powell
limped off
with ahip bruise. The injury list that had already named Ray Polk and Doug Rippy, now includes Powell, Jon Major, Chidera Uzo-Diribe, and Derrick Webb as a result of the UCLA game. The hits just keep on coming.
The Buffs now enjoy a week off, sitting through a bye prior to their Thursday night showdown with Arizona St on ESPN. The team needs it to not only recover physically, but mentally as well.
Coach Boyle saves the day yet again -
For the third time in as many tries, Coach Boyle has used a Front Range football weekend to secure a
new recruit
for the basketball program. The new Buff is
Tre'Shaun Lexing
, a 6-6 swingman from Tacoma, Washington. Yet another hyper-athletic tweener, Lexing chose CU over reported interest from UCLA, WSU, ASU, Boise St, and Gonzaga. He can play a number of positions, certainly from 1-3, maybe even a little 4. He fits the prototypical mold of a Coach Boyle recruit, and should gel in the system right away. Welcome aboard, Tre'Shaun!
Lexing completes the 2013 recruiting class.
Combined with other recent commitments
Dustin Thomas
and
Jaron Hopkins
, this should conclude recruiting for the 2013 class, as CU has more than reached its quota. With only one graduating senior on the books (Sabatino Chen), the Buffs are obviously banking on two players leaving the program early. Smart money has always been on Andre Roberson jumping to the NBA, opening up a second scholarship, but the third is a little less certain (Outright transfer? Medical retirement?). I have no inside information, but prudent guessing leads me to believe that, in addition to 'Dre, a second member of the 2014 graduating class (Jeremy Adams, Shane Harris-Tunks, and Ben Mills) won't finish with the program. Regardless, I'm sure Coach Boyle knows his roster, and has it all figured out.
Going forward, this leaves CU with nine of their 13 total scholarships tied up in the 2012 and '13 classes. If my guess about the 3rd open scholarship is correct, that would also leave only two scholarships seemingly available to spend on the loaded 2014 recruiting class. In fact CU has been hot after three targets from that class: PG's
Dominique Collier
and
Josh Perkins
, along with PF
Jack Williams
.
I'm especially high on Collier, who would make for a nice corner-stone piece in the 2014 class.
For the record, the football program also landed a recruit over the past weekend. Lanky DE
Marcus Loud
declared
for the Black and Gold. The Texan decommitted from Mizzou prior to his commitment to Dear Old CU. Sounds like a smart choice to me; welcome aboard, Marcus!
Around the nation of football -
College Football
Baylor @ West Virginia -
The stats from this game are awe-inspiring. In the
70-63 WVU win
, the two teams combined for 1,507 yards and19 touchdowns. The big winner from the offensive apocalypse was WVU QB Geno Smith, who clocked in with 687 yards of total offense and eight passing TD's. That's the stuff that Heisman campaigns are made of.
Geno Smith could no be stopped Saturday.
Oregon St @ Arizona -
Is Oregon St for real? Hell if I know, but they're still perfect, and have a 2-0 Pac-12 record after two road games. Their
38-35
win in Arizona was a little shaky, but a win-is-a-win. This weekend's tilt with WSU won't tell us much, either... They could be 6-0 headed into Washington next month. That'll be a good test.
NFL
Giants @ Philadelphia -
How do the Eagles keep overcoming Andy Reid's incompetence? An idiotic decision to ice the kicker right before the snap, allowing Giants Kicker Lawrence Tynes to get in a practice run (which was missed), seemed sure to come back to bite the mustachioed coach. The resulting real try was dead center, but fell a few yards short, allowing the Eagles to escape face-palm-fail with a
19-17
win.
San Francisco @ Jets -
The calls for the Jesusback are getting louder. The Sanchize struggled yet again through the Jets
34-0
loss to the Niners. 13-29 for 109 yards is bad enough, but this has become a theme with the USC product. I'm betting we see Tebow under center by week six.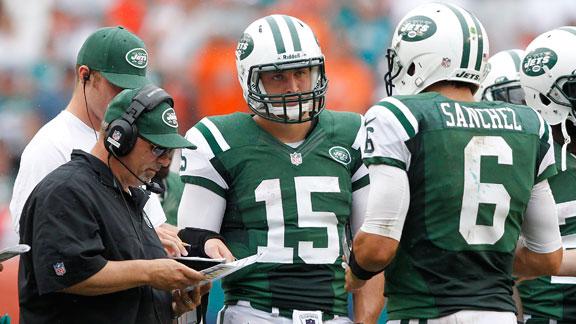 Troll picture trolls hard.
Oakland @ Denver -
There you go, Bronco fans, you dismantled the Raiders
37-6
. Can everyone calm down? Pey-Pey will be just fine. The Schedule is softening up, and I expect the 'cos to go on a run.
Happy Monday!